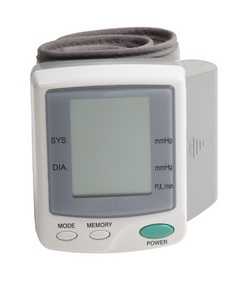 If you need to monitor and control hypertension, HBP or BP levels, it's important to have an accurate and easy to use home device like an Omron blood pressure monitor. Accuracy and usability are two important features of a BP monitor. You didn't go to medical school and get trained as a doctor.
You need a BP monitor that you can easily learn how to use. What's use of a BP monitoring device if it's too complicated to figure out? That's more likely to cause your BP to rise, which pretty much defeats the purpose of keeping your BP in check.
The second important feature of a BP monitoring device is accuracy. This goes without saying that if your BP monitor gives you the wrong reading in mmHg, it is not only useless, but dangerous, as well. This monitors are highly recommended by doctors and highly rated by Consumer Reports magazine.
There are 5 different series of the Omron automatic monitors – the 3, 5, 7, 10 and 10+ series. You have your choice of either a wrist or an upper arm cuff Omron blood pressure monitor. The choice of which to use should be discussed with your doctor. All of the Omron monitors will detect irregular heartbeats while it is taking blood pressure.
If it detects irregular heartbeats, an icon will appear on the screen so you can consult with your doctor. With the 5 series, two different people can and track their readings with the same device. This makes it convenient if you have two people in the household that need to monitor their BP.
That way you don't have to check to see if you are using the right wrist blood pressure monitor every time you need to check your blood pressure. Not only that, but it has a hypertension indicator that warns you if your BP is higher than what's acceptable.
The 7 series include all the benefits of the previous series but also comes with an indicator on the front panel to let you know if you have a monitor on correctly. Another feature of the 7 series is that it has Omron's patented ComFit Cuff that expands to fit arm sizes from 9 to 17 inches comfortably and snugly resulting in a more accurate reading.
This relieves the stress from having to fiddle with the monitor to make sure you have it on right. If you want something with all the bells and whistles, the 10 series comes with dual sensors to double check the reading to make sure that you get an accurate reading in mmHg. It also automatically takes your reading three times at one minute intervals, and then displays the average.
Another feature of the 10 series is that it gives you an eight week average of your BP levels in the morning and evenings. If you're tech-savvy and want your blood pressure readings and history downloadable, then you want the 10+ series Omron BP monitor. It comes with a USB 2.0 cable so you can upload all the information to your computer or to notebook.
If you are at risk of hypertension, it is important to make sure your BP does not get too high, as it can lead to conditions such as strokes, heart failure, enlarged left heart, artery damage and narrowing, coronary artery disease, aneurysm, transient ischemic attack (TIA), stroke, dementia, mild cognitive impairment, kidney scarring, kidney artery aneurysm, heart attacks and kidney failure. Being able track your BP through so you can see how you respond to medication, diet and emotions can give your doctor a better understanding of condition to ensure you get the proper treatment.
Whether it's a simple 3 series Omron blood pressure monitor to take your BP readings or the 10+ series with all the technological features, this device can help improve your health.